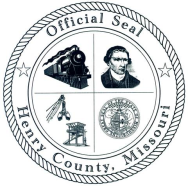 The Henry County Missouri Office of Emergency Management announced a new director has been appointed for the county: Brad Wright.
The mission statement of Henry County Emergency management is "…to plan for and exercise for natural and manmade events and incidents to save lives, property, and infrastructure of Henry County."
The description of the position online includes such responsibilities as to
"Identify and analyze the effects of hazards that threaten the jurisdiction, …
Work closely on a cooperative basis with the departments of local government and community organizations in developing emergency management plans and capabilities,
Work with local officials in the development of a hazard mitigation program to eliminate or reduce potential hazards,
Know where to get resources from governmental and private sector sources that would be needed in an event or incident, …
Work with local communicators to develop a communication system to be available for an event/incident, develop a public education system,"
and other, similar duties. In short, it is the Emergency Management Director's responsibility to plan ahead for emergencies, and to make sure that Henry County is ready to meet the challenges of emergencies, before they happen.
For Henry County, the Director of Emergency Management is also the county's Floodplain Administrator, per county ordinance. The Floodplain Administrator "is responsible for implementing the community's local floodplain regulations, and insuring that the community is complying with the minimum NFIP [National Flood Insurance Program] standards and enforcing any locally-imposed higher standards," per FEMA, the organization which manages the NFIP.
Floodplain administrators also are responsible for "ensuring any required permits are obtained" for changes in floodplain status or for any "construction, repairs, or improvements to existing buildings, fences, filling, storage of materials, levees, walls, etc." for any builidngs that are located inside a floodplain. Homes may be searched by address on FEMA's website to determine if they are in a flood zone, and if a homeowner believes they are erroneously shown to be located within a floodplain, it is another of the floodplain administrator's responsibilities to help them submit an application to revised their home's flood rating.
Worth noting is that while Brad Wright is the Henry County Director of Emergency Management, and the Henry County Floodplain Administrator, the City of Clinton has a separate Emergency Coordinator for maintaining a state of readiness within city limits, Fire Chief Mark Manuel, and a separate Floodplain Administrator, Community Development / Building Inspector Chuck Bailey.