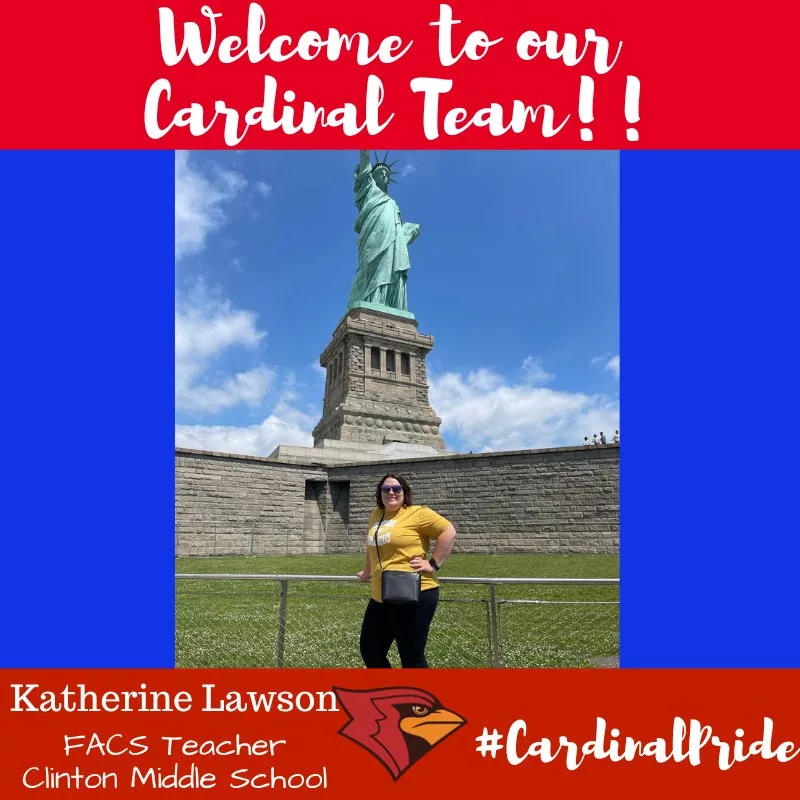 WELCOME TO THE CARDINAL TEAM
Let's give a great big Clinton Cardinal welcome to Katherine Lawson who will be joining the Clinton Middle School team as a FACS (Family and Consumer Science) teacher and FCCLA (Family, Career and Community Leaders of America) advisor.
Ms. Lawson grew up in Windsor, MO, and is joining us from the Henry County R-1 School District (Windsor), where she spent the last 5 years teaching high school FACS. Prior to teaching in Windsor, Katherine was a business teacher in the Alton and Lincoln school districts.
Ms. Lawson graduated from the University of Central Missouri with a BSE in Business Teacher Education.
Katherine is an avid reader and reads well over 100 books a year. She loves to travel and has been to three new countries just this year with a fourth scheduled for July. She is also passionate about volunteering her time, and this summer will be the 8th summer she has volunteered to be on staff at ALA Missouri Girls State. Another passion of Katherine's is working with exchange students and helping find them host families in our area.
"I did my student teaching in the Clinton School District and am excited to return."