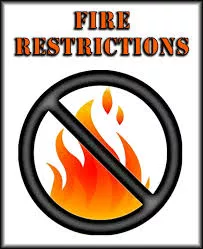 As we enter into the summer months in Clinton and Henry County. we can expect hot and dry conditions across the area. With the lack of significant precipitation over the past several weeks, large portions of Missouri are suffering from severe to extreme drought conditions. According to the National Weather Service Drought Monitoring Center, the City of Clinton is currently experiencing severe drought conditions and by the weekend, drought conditions for our area are expected to be elevated to extreme.
Due to these dry conditions, any open burning is discouraged. The Clinton Fire Department will enforce fire restrictions within the City of Clinton. NO open burning will be allowed in the city limits until further notice, this is to include the use of recreational fire pits. Also, take care to prevent the start of accidental fires when smoking or operating vehicles around dry vegetation.
The Clinton Fire Department would also encourage residents of rural Henry County to refrain from burning until significant measurable rainfall is received. The Clinton Fire Department would like to thank the community for your cooperation in this matter.
Burn order also includes the City of Deepwater as per the orders of the Mayor of Deepwater.