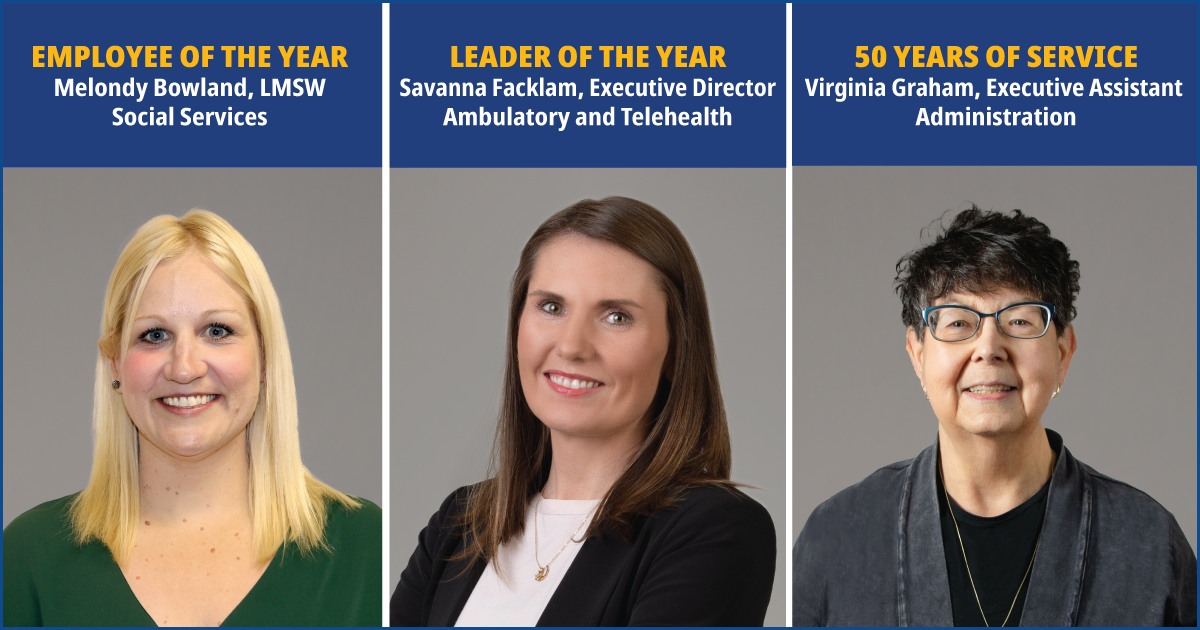 Golden Valley Memorial Healthcare (GVMH) recently held its annual Employee Banquet to show its appreciation for staff and their dedication throughout the 2022-2023 fiscal year.
The event included a dinner, special program, service awards and awards for Employee of the Year and Leader of the Year. In addition, Virginia Graham was recognized as the first employee to work 50 years at GVMH.
This year, Melondy Bowland was selected as Employee of the Year. She has been an employee of GVMH since May 2015 and works as a Social Worker in the Social Services department.
According to Bowland's supervisor, Ranae Walrath, Director of Social Services, "Melondy has been chosen as Employee of the Year because she truly has a Heart of Gold. Her focus is on patient safety and success. Melondy wants to know her patients and understand their support system so she can help them recognize their strengths and overcome limitations. She is a valued member of the GVMH team who embraces her responsibility to be a resource for our staff, patients and the community. I am so pleased Melondy is being recognized for her dedication to the organization. She deserves it!"
Savanna Facklam was recognized as the Leader of the Year. Facklam has been an employee of GVMH since November 2009 and was recently promoted to Executive Director of Ambulatory and Telehealth.
Per Facklam's supervisor, Kyle Adkins, Chief Operating Officer, "Savanna is a trusted leader and perhaps the most sought after mentor for new leaders in the organization. She is accountable to her team, peers and leaders in all that she does. She understands the "why" as well as anyone and is relentless in ensuring the best care possible for our patients. Her smile is infectious and you just cannot help enjoying your time working with her. More importantly, she is a tremendous friend and we are blessed to be able to work alongside her every day. I could not be more proud of Savanna receiving this honor."
Virginia Graham was recognized as the first employee to work 50 years at GVMH. Currently, she is the Executive Assistant to the CEO. Graham started at GVMH when it opened its doors in 1972 and has held various positions over the years in Medical Records, Human Resources and Administration. "We are extremely thankful to have Virginia at GVMH," said Craig Thompson, Chief Executive Officer. "We appreciate all her hard work, devotion and the wealth of knowledge she has. Virginia is one-of-a-kind."