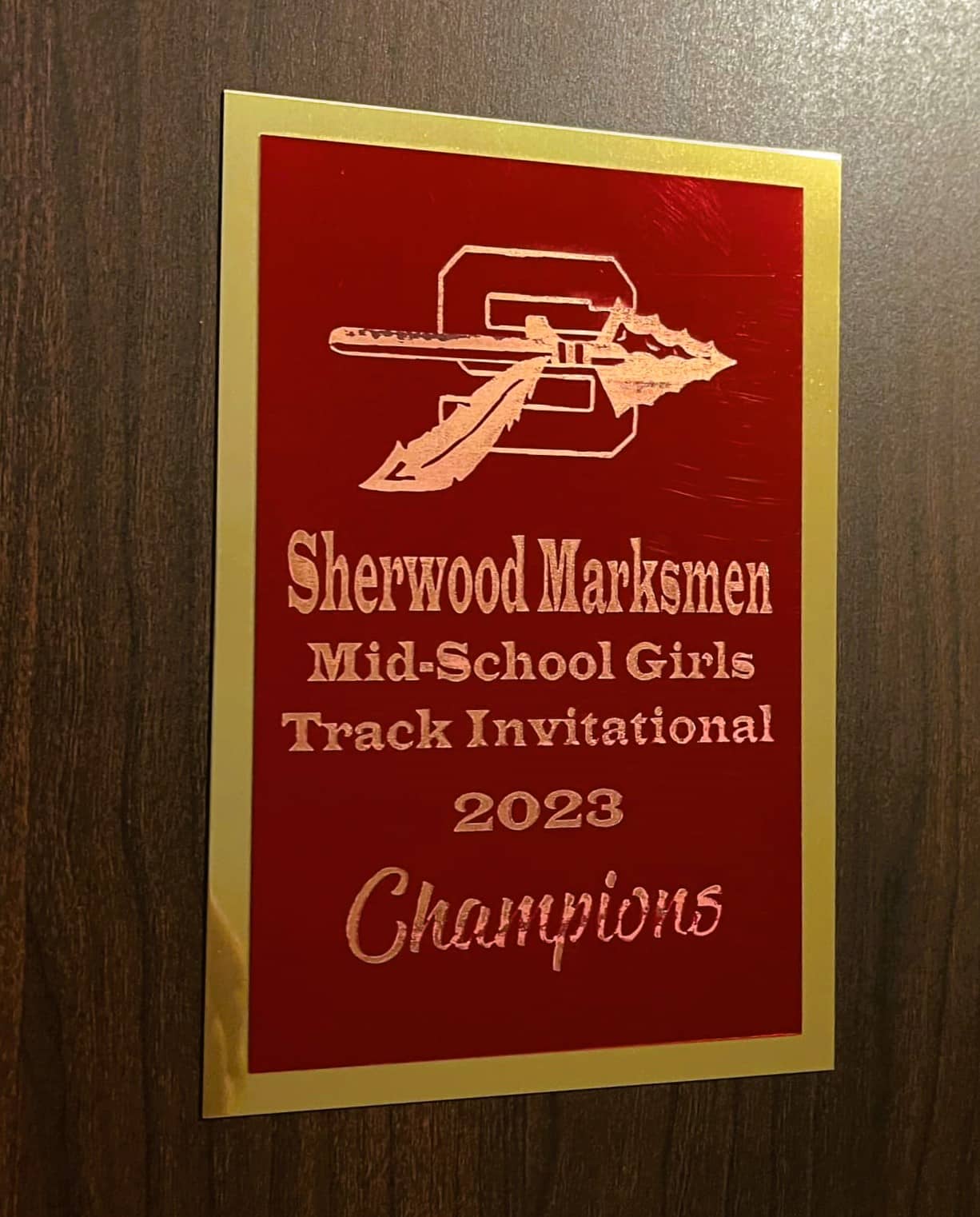 The Clinton Middle School Track team competed in the Sherwood Middle School Black & White Invitational Meet on April 6, 2023, bringing home an overall championship for the meet and crushing a previous middle-school discus record by nearly 2 meters. 
Both the Boys and Girls teams performed admirably at the event. From the boys' team in particular, Kaysn Shockley finished in the top 10 of the Boys' 100-Meter Dash, and Brayden Slater finished in the top 10 for Shot Put.
The Girls Team, however, were truly exemplary, taking first place in the meet overall and setting a new school record: Gwen Phillips broke the previous Clinton Middle School record for Discus with a throw of 25.84 meters. The previous record was 23.62 meters. That throw earned her first place in the girls discus event for the meet.
As well as Phillips's achievement in discus, CMS girls' track won an additional 5 gold medals at the Sherwood Invitational:
Brooklyn Johnson took first place in the 1600-Meter run with a time of 6:14:56.
The 4×400-Meter Relay team, consisting of Hayden Sewell, Ali Schaffer, Claire Cook, and Bailey Klahs, took gold with a total time of 4:44:25.
Hayden Sewell also took a solo gold in the High Jump at 1.42m, and
Kiya Eshelman took gold in the Triple Jump at 8.81m
Gwen Phillips also took first place in the Shot Put event at 10.11m.
Besides the impressive list of first-place accomplishments above, CMS Girls Track also brought home 5 silver and 2 bronze medals:
Jocelyn Himes took 2nd place in the 800-meter dash with a time of 2:59:50.
The 4×100-meter relay team, consisting of Hayden Sewell, Julianna Coen, Ali Schaffer, and Claire Cook, took 2nd place with a time of 59.97.
the 4×200-meter relay team, with Ali Schaffer, Julianna Coen, Victoria Peek, and Maykayla Murphy, took 2nd place with a a time of 2.08.02.
the 4×800-meter relay team, with Kaysen Nold, Allyson Mackey, McKayla McMenemy, and Jocelyn Himes, took bronze with a time of 12:58:5.
Bailey Klahs brought home bronze in Long Jump at 3.78m.
Ellie Bettencourt won silver in Shot Put at 8.53m.
Annie Johnson earned silver in Discus at 21.87m.
These impressive accomplishments combined to earn the girls track team a total score of 126 points in the competition overall, earning them the meet championship.
Previously this season, CMS girls track have taken 2nd place overall at the Holden Middle School Track Meet on March 30, as well as at the JBMS Invitational at Warsaw on March 28th.  Clinton Middle School Track will next compete on April 17th at Warrensburg, and we send all our Clinton competitors our very best wishes for safety and success as well as our congratulations on their achievements so far.
Go Cards!