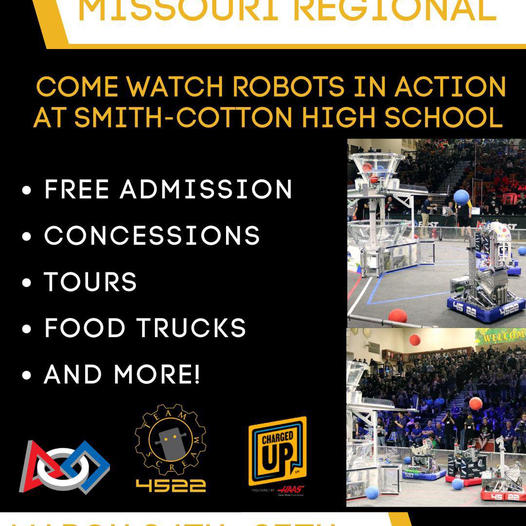 Smith-Cotton High School in Sedalia will host the FIRST® Robotics Competition Central Missouri Regional on Friday, March 24 and Saturday, March 25, 2023. The two-day competition will feature "teams from Kansas City and beyond…with 120-pound robots of their own design."
No ticket or registration is required to attend, and the event is free to attend. Concessions and food trucks will be available, as well as tours and more!
Smith-Cotton High School's team is known as Team SCREAM, an acronym for Smith-Cotton Robotics, Engineering, and Mathematics, with a Team SCREAM Jr. competing in the junior-high division. Both teams recently competed at the FIRST Robotics Arkansas Regional, where Team SCREAM Jr. earned the right to advance to the 2023 FIRST Championship in Houston, TX this April.  Team SCREAM saw their own share of success and brought home the Autonomous Award. Both Team SCREAM and Team SCREAM Jr. will be competing this weekend at the Central Missouri Regional Competition. Congrats and good luck!