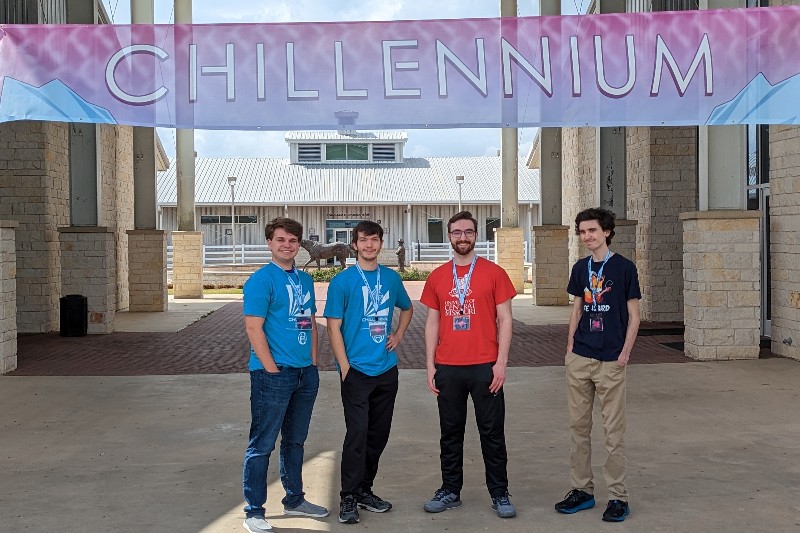 WARRENSBURG, MO (March 8, 2023) – Putting their game development skills to test over a two-day period, a four-member team of undergraduate students from the University of Central Missouri recently captured first place for Best Overall Game during the 2023 Chillennium, the world's largest collegiate student-run game jam. Armed with computers, drawing tablets, sleeping bags, and plenty of snacks, the team from UCM joined hundreds of students from colleges and universities across the country who came together at Texas A&M University, College Station, Feb. 24-26 to compete in this seventh annual event.
Chillennium was organized by Texas A&M students as a challenging, competitive, and fun way to give promising video game designers an opportunity test their creativity and put their technical skill to work to create a unique, fully playable game from scratch within a period of just 48 hours. The "prompt" or theme for this year's event, "We Share a Heart," was announced during the opening ceremony, after which the teams immediately raced against the clock to create games with original art styles, gameplay, music, and sound that uniquely captured the theme. Teams with the highest scores are awarded first-, second-, and third-place trophies for Best Overall Game. Additional recognition is given in the disciplines of Programming, Art, Design, and Sound. 
UCM's team members who are studying Game Development are Mason Scheible and Jake Hamilton, development and soundtrack; Greg Burns, artwork; and Jacob Miller, development. The team successfully created a game titled, "Hearts on the Line," which won the competition featuring 57 other game entries. The game makes it possible for an individual  to control two independent characters or play with a friend in a puzzle platformer in which the two characters are bonded together by a rope and must work together to overcome various obstacles and dangers to navigate a series of ice caves and escape, alive. This year's competition follows in the train of last year's Chillennium which began with the prompt, "You really shouldn't mix those!" The 2022 team, which also included Burns and Scheible, was recognized as 3rd Best Overall. Their game, "Zero Out of Five Stars," invited players to try to concoct the worst food dish possible.
 Chillennium is serious business for the competing teams of up to four people, who often work around the clock or sleep in shifts to progress to a finished prototype before the deadline. 24 universities fielded teams, represented by 234 students. "We're very proud of these four students and their accomplishment at Chillennium," said Dr. Jeff Robertson, dean of the College of Health, Science and Technology. "In addition to sleepless competition, I know that the game jam gives students an opportunity to network. Our students not only established new connections with their peers from other schools, but also formed new associations with game industry professionals from companies like BioWare, Blizzard Entertainment, Marvel Studios, and Rockstar Games, who were on hand to mentor and support the teams."
Dr. Belinda Copus, chair of the Department of Computer Science and Cybersecurity at UCM, travelled with the team. "The ability of this team to work under pressure and produce a playable and beautiful video game in such a short time is in direct relation to their teamwork abilities," Copus related. "This team maximized the talents of each member, kept the project within scope for a 48-hour production cycle, and perfectly captured the theme of the event. I am continually amazed by the capabilities our Game Development students and this year's team deserves this victory."
The 2024 Chillennium is scheduled for March 1-3 at Texas A&M. Individuals who want to know more about UCM's involvement in this competition are encouraged to contact Dr. Copus at copus@ucmo.edu